Kirsten & Richard's Wedding at Belfast Castle
In the gallery below is the album layout for Kirsten & Richard's Wedding at Belfast Castle
Belfast Castle is one of my favourite locations for wedding photography. I was delighted to be asked to photograph the wedding of Kirsten and Richard at this popular local landmark.
As Kirsten was originally from England, she decided to get ready for her big day at the luxurious Five Star Merchant Hotel in Belfast. A very relaxed morning with lots of laughs and bubbles!
Then it was off to Belfast Castle to meet up with Richard and await the arrival of the bride.
Just minutes before Kirsten was due to arrive, the rain appeared! With several umbrellas and lots of helpers, we got the bride to the Castle without getting soaked!
It was a beautiful wedding service officiated by Rev Fred Cowan after which we headed out into the sunshine (if you don't like the weather in Northern Ireland you just have to wait 5 minutes for it to completely change!) for bridal portraits and family and friends photographs. Richard did have to carry Kirsten over a few very large puddles that had formed due to the earlier heavy rain!
Belfast Castle makes a fantastic backdrop for wedding photographs – and the large windows in the function room provide lovely light for bridal portraits – a really stunning building.
After dinner and the very entertaining speeches, it was time for the party! And the tossing of the bouquet – a tradition you don't often see at weddings in Northern Ireland.
Before the first dance, just before it went completely dark outside, I asked Kirsten & Richard to head outside for a picture with the floodlight Castle behind them – my favourite wedding photograph at Belfast Castle.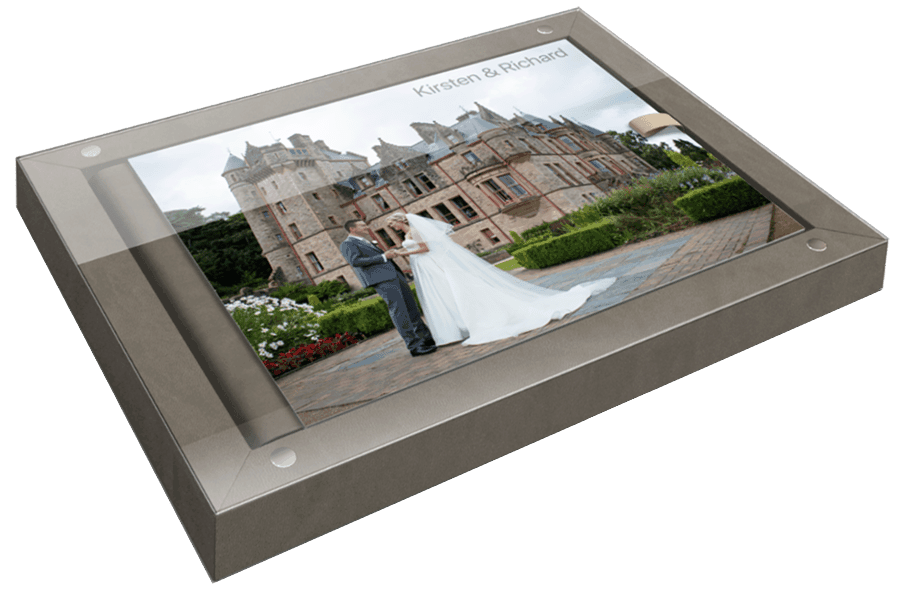 This album is currently one of my sample wedding albums available to view during your free Wedding Consultation. To arrange yours, please first check if I am available for your wedding day.
Each image in the gallery below represents a double-page spread of the album.
Many thanks to Kirsten and Richard for letting me share their wedding day.