Blue Hour in Belfast – Tuesday 27th September 2022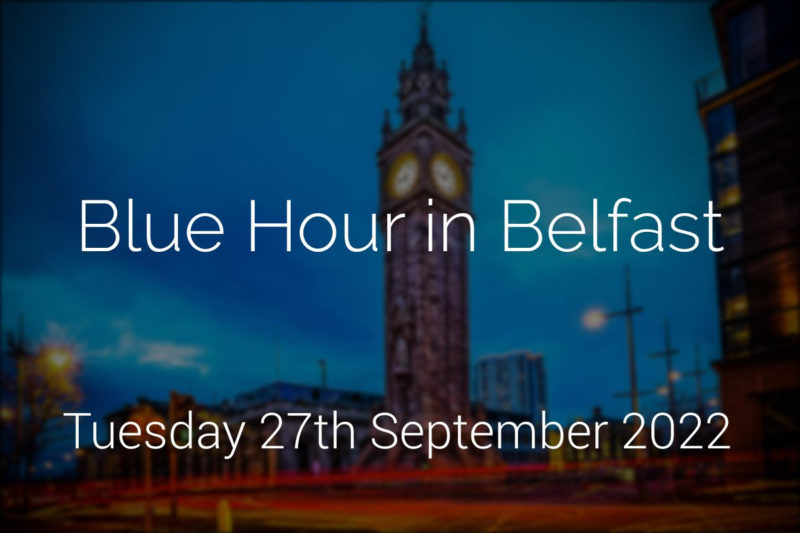 Blue Hour is the perfect time for stunning nightscapes, especially in the city.
The Blue Hour (it's usually much shorter than an hour!) is that magic time when the sun has dipped below the horizon and the sky turns a cool, crisp blue colour before it gets dark and night sets in.
We will meet up at 6.00pm at a local cafe for some hot drinks (included in price), do an equipment check and plan our shoot. We will visit different locations around the City Centre, capturing images as the city falls into darkness. Sunset is at 7.10pm that day so plenty of time to get ourselves in the best vantage point for sunset and Blue hour photographs. A great opportunity to add some dramatic Blue Hour Cityscape photographs to your portfolio.
Experience Required
Although it is not a necessity, to get the most from this photography course you should have previously attended my Get More from Your Camera photography course – OR – be familiar and confident with the use of Aperture Priority, Exposure Compensation and ISO.
What Equipment do I need?
This photography course is suitable for those with DSLR or Compact System Cameras.
A sturdy tripod is ESSENTIAL for this workshop.
A wide-angle zoom lens would be useful although a standard "kit zoom" will be suitable.
You will need to dress in suitable clothing for an outdoor photoshoot at night – it could get cold!! There is a small amount of walking during this workshop so a reasonable level of fitness is required.
What you will learn
During this course, we will look at the step-by-step process of creating stunning cityscape photographs during sunset and Blue Hour. We will be looking at different composition techniques, working in manual mode and using long exposure techniques.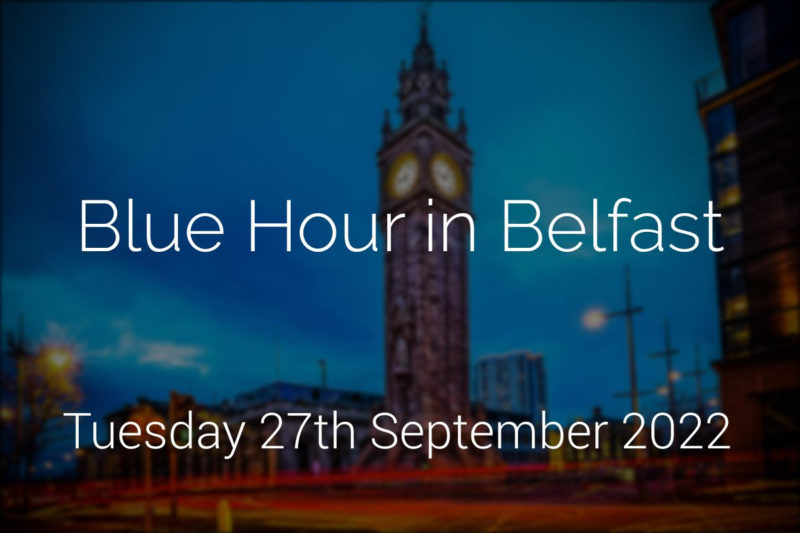 Get Creative – Blue Hour in Belfast – Tuesday 27th September 2022